This shop has been compensated by Collective Bias, Inc., Pfizer, GSK and iHealth. All opinions are mine alone. #DigestTheSavings #CollectiveBias
Hey guys, this post today is a little different than usual, but it is definitely something I'm excited to write about and share with all of you. In our society today with our busy lives and quick foods, we can easily find ourselves searching for ways to support our digestive health. Here are some things you can do to support digestive health.
As a busy mama, I am always on the lookout for products and things I can do to make life easier. Supporting my digestive health, however, is still important to me. I also often keep a food diary if I am having recurring issues so that I can pinpoint trigger foods or know what I need to avoid or what I can take to help my body run smoothly.
Plus, you can save $5 off digestive health products featured in the Sam's Club Instant Savings book from 8/23 – 9/17, 2017. If you purchase Benefiber® Prebiotic Fiber Supplement, Culturelle® Digestive Health Probiotic, and Nexium® 24HR Acid Reducer Capsules, that's a total of $15 off!
First of all, we all know fiber is an important part of our daily diet, but this is definitely one of a few things that I struggle to get in daily. You can add more Fiber to your diet with Benefiber® – it is a clear, taste-free and 100% natural prebiotic fiber that completely dissolves in the foods or beverages** you are already having!
**Not recommended for carbonated beverages.
Adding Benefiber is a great way to help support good digestive health.*
*These statements have not been evaluated by the Food and Drug Administration. This product is not intended to diagnose, treat, cure or prevent any disease.
Then, as I have gotten older for sure, I can sometimes have problems with frequent heartburn. It can be painful and can really distract from trying to get things done. However, just one Nexium® 24HR Acid Reducer Capsule a day gives you protection from frequent heartburn all day and all night long.**
**Use as directed. May take 1 to 4 days for full effect.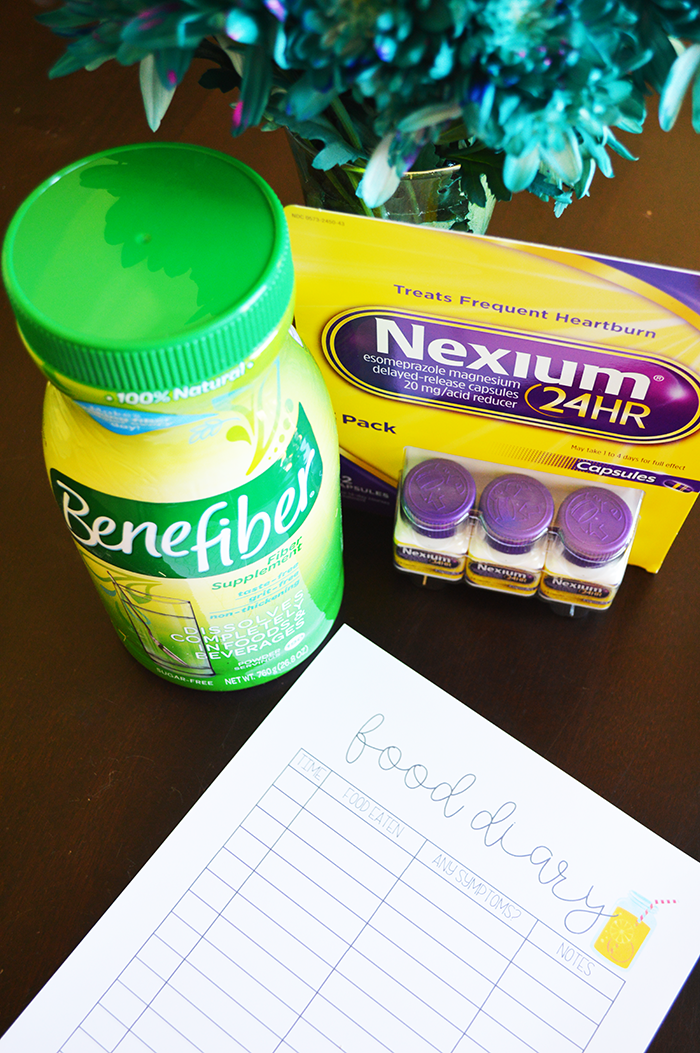 Ready to support your digestive health? Hover over the photo to click through to Sam's Club to purchase them online!
It can be so frustrating dealing with frequent heartburn. It's easy to feel like you can't enjoy your favorite foods or that everything you eat is causing you pain. I have definitely experienced this, and it is not fun. Nexium® 24HR Acid Reducer Capsules are the #1 choice of Doctors and Pharmacists for their own frequent heartburn.*
*Among PCP's and Pharmacists who use a branded OTC PPI.
With great products like Nexium® 24 HR Acid Reducer Capsules and Benefiber®, there are definitely solutions out there for painful digestive problems. Don't just live with the discomfort; you don't have to.
You can stock up on all of your digestive health help at Sam's Club, and look out for those Instant Savings signs to save $5 off these products, which makes for a pretty great deal!
If you want to take it a step further, I absolutely recommend keeping a food diary, tracking what you eat, any symptoms you experience, and other things you notice. This can be so helpful when trying to find patterns and trigger foods that are causing problems. It can also make it easier for your doctor to help you combat these issues, as well.
You can download this free food diary printable by clicking here!
To support your digestive health, Sam's Club is the place to go to stock up on all of the help we need. Now, share in the comments- what foods have you found that are triggers? How did keeping a food diary change things for you? Let us know!