This shop has been compensated by Collective Bias, Inc. and its advertiser. All opinions are mine alone. #NothingLikeAHug #CollectiveBias
Hey guys! Today I'm sharing some fun potty training tips and advice to make it through the holiday season. You shouldn't have to put potty training on hold because of a busy season, especially if you little one is ready to make it happen. So, here are my tips and tricks for making it through family events, parties, travel, and more with a potty training toddler.
First, my best tip is to just be flexible and be prepared. Accidents are going to happen, messes are going to happen, and it is okay. Potty training can be a crazy time, but if you can make it through just imagine the diaper-less days that are in your future.
I try to be prepared by carrying our "Toddler Bag". I don't carry a diaper bag anymore because I don't need quite that same setup and I don't have any small babies, so I usually have a toddler bag. Whether we are spending a day at a family member's house or traveling out of town, I try to always have this bag set up for him.
For starters, you need the essentials in your bag- pull ups and wipes! We try to stock up on these from Sam's Club. We love our Sam's Club membership. By shopping at Sam's Club, not only do we save money, but we save time by buying things in bulk. It really means one less thing to think about knowing we are stocked up on all of our necessities.  We love Sam's Club's already great prices, but you can take advantage of this limited time instant savings offer on Huggies Diapers, Pants, and Wipes this holiday season. You can save $8 instantly when you buy any two Huggies products, valid 10/25-11/22. Plus, save an additional $4 through Ibotta when you purchase Huggies at Sam's Club!
To find out more about Huggies at Sam's Club, plus these great savings, click the products below.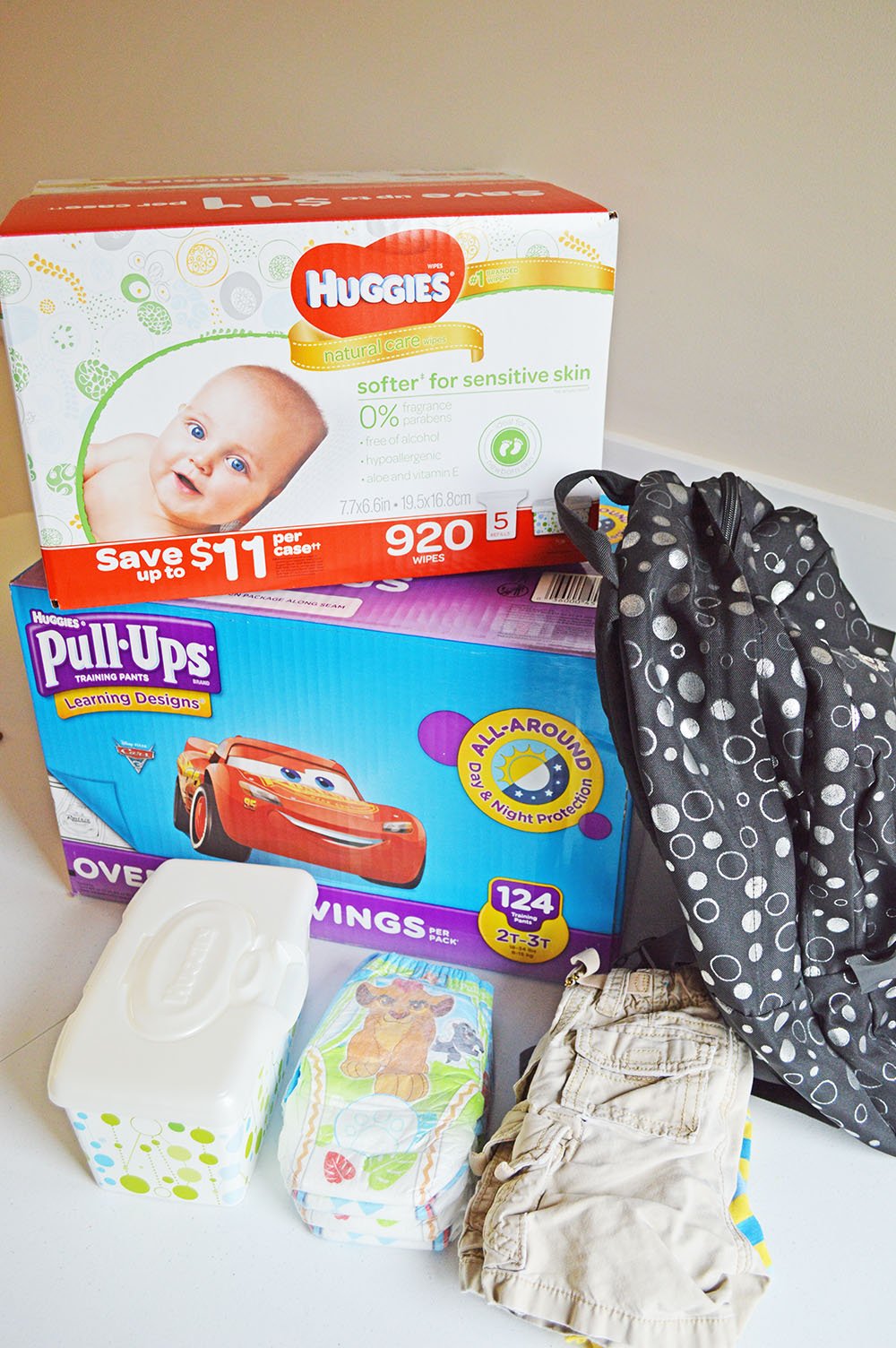 Along with the essentials, you'll definitely want a change of clothes. I like to keep some handy for other messes too besides those dealing with the potty. Extra clothes on hand is never a bad thing when it comes to little ones.
I also like to include in our toddler bag a couple of his favorite toys, a sippy cup for drinks, and sometimes even some snacks for just in case. Basically, whatever he may need or whatever may make being out and about or traveling easier I'll keep handy in our bag. It definitely just makes life easier and less stressful.
Now, when it comes to actually going potty in a different place, which can be weird for toddlers to begin with, you can try bringing with you their favorite small, portable potty seat that they can use on whatever potty they might need to. Having their favorite seat can definitely make going a little easier. There are so many options for portable ones now, it really makes potty training on the go simple. I even bring one when we visit family who may not have a potty seat available in their home, but it can be great to have one for restroom breaks, having to go at the grocery store, and more.
My last tip is to just stay calm and go with the flow. The holidays are stressful enough, don't let a little thing like potty training add to your stress. Your little one will definitely feed off of how you are feeling so if you are calm and keep things fun it will be easy peasy.
So there you have my tips for potty training during the busy holiday season. Potty training pros- what would you add? Be sure to share your tips in the comments below! Then, don't forget to check for Huggies Diapers and Wipes at your Sam's Club!